The challenges for molecular nutrition research 2: quantification of the nutritional phenotype
Genes & Nutrition
Studying the relationship between genetics and nutrition in the improvement of human health
2008
3:84
Received: 12 April 2008
Accepted: 26 May 2008
Published: 25 June 2008
Abstract
In quantifying the beneficial effect of dietary interventions in healthy subjects, nutrition research meets a number of new challenges. Inter individual variation in biomarker values often is larger than the effect related to the intervention. Healthy subjects have a remarkable capacity to maintain homeostasis, both through direct metabolic regulation, metabolic compensation of altered diets, and effective defence and repair mechanisms in oxidative and inflammatory stress. Processes involved in these regulatory activities essentially different from processes involved in early onset of diet related diseases. So, new concepts and approaches are needed to better quantify the subtle effects possibly achieved by dietary interventions in healthy subjects. Apart from quantification of the genotype and food intake (these are discussed in separate reviews in this series), four major areas of innovation are discussed: the biomarker profile concept, perturbation of homeostasis combined with omics analysis, imaging, modelling and fluxes. All of these areas contribute to a better understanding and quantification of the nutritional phenotype.
Keywords
Nutritional phenotype
Homeostasis
Perturbation
Imaging
Health status quantification
Nutrition research is focused on the impact of foods on health. Traditionally, biomarkers related to (the onset of) disease or organ damage were used to quantify the effects. With the emerging drive to focus on the exploitation of food for health optimization and disease prevention, it becomes necessary to quantify phenotypic changes which are very close to, or even within the range of the healthy state. This imposes major challenges, because diet-induced changes in phenotype usually are very small and hard to quantify and the system rapidly re-establishes normal homeostasis. Moreover, these changes usually are smaller than the inter-individual variations within a healthy phenotype [21, 62]. Thus, accurate quantification of the effect of nutrients on health is a major bottleneck for progress. This is true for genetically defined sub-groups as well as for nutrition research in general. The research area of nutrigenomics has made enormous progress in recent years, applying omics technologies in the diet-health relationship [10, 19, 34, 52]. Yet, this has primarily focused on unravelling mechanisms and biomarker profiles. The aim of this review is to consider the different aspects of` quantification of health effects and provide specific recommendations. The term 'nutritional phenotype' has been introduced with this purpose in mind [72], and is defined as a set of integrated genetic, transcriptomic, proteomic, metabolomic, functional and behavioral data, which provide the basis for assessment of human nutritional status and health. In a limited number of cases the phenotype is strongly and straightforwardly correlated to genotype (e.g. phenylalanine ketonuria), but the nutrition—genotype—phenotype relation is relevant even in cases where no straight forward translation from genotype to phenotype is possible [11]. Recent emerging knowledge on the epigenetic variation of this genotype-phenotype relationship allows a more precise understanding of the plasticity of our phenotype and the impact of nutrition on this.
Complex and subtly regulated processes such as glucose homeostasis are full of genotypic differences. Nevertheless, homeostasis is maintained by 'individual' adaptation of a multitude of nutritionally regulated processes [15]. Daily dietary intake influences nutritional status through, for example, the postprandial response to lipids, proteins or carbohydrates [31, 43] and nutritional phenotype stems from lifetime's exposure, beginning with fetal life [5, 42, 64] and stretching into old age [2]. There are marked changes as an individual goes through life, which emphasize their own peculiar and individual adjustments. Certain phenotypic aspects change continuously while others progress more gradually, leading to modification of health status. Development of disease phenotypes thus reflects interaction between a 'sensitive genotype' and nutrient-derived metabolic stressors, which influence a multitude of molecular mechanisms.
Bottlenecks
In addition to the genetic variation as discussed in the first review of this series [
67
] and inaccurate food intake assessment, there are a variety of issues interfering with the quantification of the subtle health effects related to diet including (also see Fig.
1
):

Intra- and inter-individual variation caused by confounding' factors, which mask significant change.

Absence of appropriate biomarkers for quantification of early changes.

Difficulty in discriminating between temporary and lasting health effects.

Metabolic compensations for nutritional alterations.
Approaches
Four new approaches have emerged, which are worth further development. These are described below, and presented in Fig.
2
.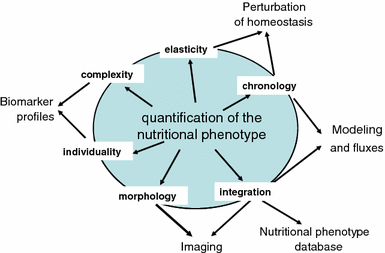 Towards a practical nutritional phenotype description
Many of the options described above are in the early stages of development, and a major effort will be required before we can hope to draw on meaningful omics-derived conclusions. As a priority, we need to understand homeostasis not only in terms of relevant nutrigenomics data but also to distinguish significant health markers from the background noise, i.e. changes in gene expression, protein translation and functionality, and metabolite concentrations. Early agreement on a minimum set of parameters to be measured in the majority of human nutritional studies would ease comparison of results and establishment of a depository of data for sharing. This requires extensive consensus as well as provision of secure information systems.
One of the first steps towards this goal is to develop systems that can capture accurately subtle changes in a multitude of biological variables. This poses a substantial challenge that requires standardized technology, methodology and data formats. Many lessons can be learned from the mouse phenotyping community [3, 4, 27]. NuGO (http://www.nugo.org) is currently building a set of online tools, which could form the basis of nutritional phenotype quantification, with the option to select, standardize, store and query the relevant parameters. These elements are now all centred around "NutriBASE", a laboratory information management system (LIMS), which captures nutritional studies with a strong omics component. NutriBase incorporates structured storage of nutritional metadata (i.e. study design, treatments, phenotypic observations, etc.), enabling subsequent detailed querying of datasets in databases. Within the same database, transcriptomics (raw) data and results can be stored and traced. NutriBASE is an extension of BASE 2, an open source transcriptomics LIMS [51]. NutriBASE follows all current standards and exports to public databases like ArrayExpress [50].
The NuGO developers and other collaborators are currently trying to extend this system to enable capture and enhanced querying of all types of information, including dietary intake, metabolomic and proteomic, (epi)genetic and in vivo imaging data, with the ultimate goal of developing a nutritional phenotype database. It is envisaged that a modular architecture will be employed for the different components (study design and different data sets) as this not only represents an efficient manner to store data but also provides the flexibility to add extra modules to accommodate new technologies and all types of nutrition and health research studies. The development will be carefully aligned with other ongoing activities spanning different biological sciences such as the EU Framework 7 Programme project ELIXIR, which is coordinating the development of a new European Life Sciences Infrastructure For Biological Information (see http://www.elixir-europe.org). This is to avoid unnecessary replication and move more rapidly towards universal standards.
Finally, of critical importance in the development of nutritional phenotype databases is the need to develop methods which integrate the biological and imaging data with estimates of food and nutrient intake. At present, the latter are hampered by the phenomenon of under-reporting of food and nutrient intake and in this respect metabolomics may have a role, not in the definitive analysis of the diets of individuals but in allocating individuals to one of a number of highly characterized metabolomic profiles. A second area which will need attention to integrate omics with dietary data will be the capacity to characterize dietary patterns over a given time period in toto, rather than the present system of the average intakes of individual foods or individual nutrients. Radical new thinking in the collection, analysis and presentation of dietary data is an imperative in this area. This will be the topic of review nr 5 in this series.
Declarations
Open Access
This article is distributed under the terms of the Creative Commons Attribution Noncommercial License which permits any noncommercial use, distribution, and reproduction in any medium, provided the original author(s) and source are credited.
Authors' Affiliations
(1)
Department of BioSciences, TNO-Quality of Life, Zeist, The Netherlands
(2)
RIKILT-Institute of Food Safety and Wageningen University, Wageningen, The Netherlands
(3)
Institute of Food Research, Norwich, UK
(4)
Department of Nutrition, Institute of Basic Medical Sciences, Faculty of Medicine, University of Oslo, Oslo, Norway
(5)
Rowett Research Institute, Aberdeen, UK
(6)
UCD Institute of Food and Health, University College Dublin, Dublin, Ireland
(7)
Division of Human Nutrition, Nutrition, Metabolism and Genomics group, Wageningen University, HD Wageningen, The Netherlands