Connecting the Human Variome Project to nutrigenomics
Genes & Nutrition
Studying the relationship between genetics and nutrition in the improvement of human health
2010
5:186
Received: 17 September 2010
Accepted: 24 September 2010
Published: 15 October 2010
Abstract
Nutrigenomics is the science of analyzing and understanding gene–nutrient interactions, which because of the genetic heterogeneity, varying degrees of interaction among gene products, and the environmental diversity is a complex science. Although much knowledge of human diversity has been accumulated, estimates suggest that ~90% of genetic variation has not yet been characterized. Identification of the DNA sequence variants that contribute to nutrition-related disease risk is essential for developing a better understanding of the complex causes of disease in humans, including nutrition-related disease. The Human Variome Project (HVP; http://www.humanvariomeproject.org/) is an international effort to systematically identify genes, their mutations, and their variants associated with phenotypic variability and indications of human disease or phenotype. Since nutrigenomic research uses genetic information in the design and analysis of experiments, the HVP is an essential collaborator for ongoing studies of gene–nutrient interactions. With the advent of next generation sequencing methodologies and the understanding of the undiscovered variation in human genomes, the nutrigenomic community will be generating novel sequence data and results. The guidelines and practices of the HVP can guide and harmonize these efforts.
Keywords
Nutrigenomics
Human Variome Project
Harmonization
Introduction
Nutrigenomics has been called a "post-genome" field of research (e.g., [35]) because it could only develop in a meaningful way after the completion of the sequencing of the human genome. Ideally, nutrigenomics experiments are to be designed, conducted, and analyzed with specific knowledge of genes involved in nutrient metabolism and physiological processes. Data from the Human Genome project and subsequent haplotype mapping projects [14, 59–61, 70] demonstrated that any two humans will differ by 3–5 million bases. However, ongoing re-sequencing of individual genomes has now identified ~18 million single nucleotide polymorphisms [4, 29, 47]. More recent studies have also shown structural variation in the human genome indicating that approximately 13% of the variation between humans may be due to copy number [1, 31, 41, 50, 68, 71]. The ongoing discovery of new SNPs and structural variants shows that the genomic era is far from ending, particularly since the next generation sequencing technologies [42] will soon allow for complete analyses of all coding sequences (i.e., the exome) of all individuals in a research study (e.g., [9]) or even for the complete sequencing of individual genes, including the regulatory regions.
The catalog of genetic variation is being done by the HapMap and 1,000 Genomes [
37
,
55
] projects. While these projects are providing fundamental information about human genetic variation, they are by design limited by (i) the populations analyzed, (ii) the goal of characterizing variants that are greater than 1% in the population, and (iii) they are unlinked to phenotype. The HapMap project [
14
,
61
] analyzed 45 Han Chinese in China, 45 Japanese in Tokyo, 90 Africans in the Yoruba tribe of Nigeria, and 90 Europeans of Northern European origin. The recently released HapMap3 data [
2
] extended the analyses to almost 700 individuals but found that 77% of the SNPs analyzed in their study had not been previously characterized. The goal of the 1,000 Genomes project is to analyze ~2,000 individuals from 23 populations (Table
1
). Due to these sample sizes, the diversity projects will only be able to detect variants that are greater than ~1% in the populations tested; some rare variants [
39
] are found during targeted re-sequencing that occurs in these projects yet variation in the many populations not analyzed will not be found. Rare variants are increasingly suspected of being involved in healthy and disease phenotypes [
12
]. Finally, the goal of these projects is simply to catalog the variants for future use in research linking genotype to phenotype, although some phenotype data are available to research in the consortium. Both HVP and NuGO (Nutrigenomics Organization) aim to document variation causing phenotypic changes such as disease and good health.
Table 1
1,000 Genomes populationsa
| Code | Population | Description |
| --- | --- | --- |
| CHB | Han Chinese | Han Chinese in Beijing, China |
| CHS | Southern Han Chinese | Han Chinese south |
| CDX | Dai Chinese | Chinese Dai in Xishuangbanna, China |
| CHD | Denver Chinese | Chinese in Denver, Colorado (pilot 3 only) |
| JPT | Japanese | Japanese in Tokyo, Japan |
| KHV | Kinh Vietnamese | Kinh in Ho Chi Minh City, Vietnam |
| CEU | CEPH | Utah residents (CEPH) with Northern and Western European ancestry |
| TSI | Tuscan | Toscani in Italia |
| GBR | British | British in England and Scotland |
| FIN | Finnish | Finnish in Finland |
| IBS | Spanish | Iberian populations in Spain |
| YRI | Yoruba | Yoruba in Ibadan, Nigeria |
| LWK | Luhya | Luhya in Webuye, Kenya |
| GWD | Gambian | Gambian in Western Division, The Gambia |
| GHN | Ghanaian | Ghanaian in Navrongo, Ghana |
| MAB | Malawian | Malawian in Blantyre, Malawi |
| ASW | African–American SW | African Ancestry in Southwest US |
| AJM | African–American MS | African American in Jackson, Mississippi |
| ACB | African–Caribbean | African Caribbean in Barbados |
| MXL | Mexican–American | Mexican Ancestry in Los Angeles, California |
| CLM | Colombian | Colombian in Medellin, Colombia |
| PEL | Peruvian | Peruvian in Lima, Peru |
| PUR | Puerto Rican | Puerto Rican in Puerto Rico |
The Human Variome Project
The Human Variome Project (HVP; http://www.humanvariomeproject.org/) is an international effort to systematically identify genes, their mutations, and their variants associated with phenotypic variability and indications of human disease or phenotype [15, 16, 33, 51]. The goal of the HVP is to link clinical, medical, and research laboratories for developing knowledge. This knowledge will be accessible to the research and medical communities to improve research strategies and clinical medical practice. One of the key deliverables of the HVP is the creation of a cyber infrastructure to link locus-specific databases (LSDBs [27]). These databases have similar architecture, ontologies, and data elements allowing for interoperability and are curated by local experts. Over 700 LSDBs are maintained across the world and accessible at the Human Genome Variation Society website (http://www.hgvs.org/dblist/glsdb.html). Some, but not all, of the information in LSDBs are consolidated in national and international databases such as at the National Center for Biotechnology Information (NCBI—http://www.ncbi.nlm.nih.gov/) and the European Bioinformatics Institute (EBI—http://www.ebi.ac.uk/).
The HVP has 10 key objectives (Fig.
1
):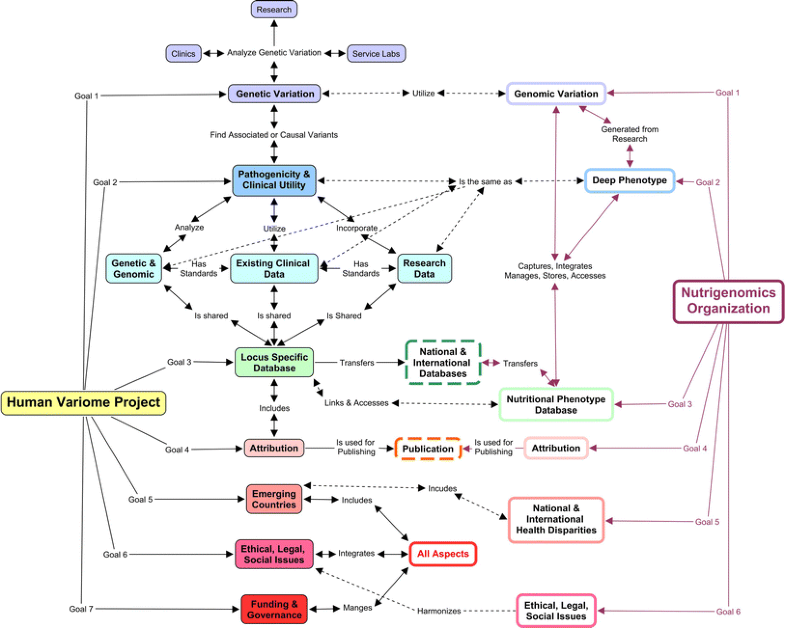 1.

Capture and archive all human gene variation associated with human disease in a central location with mirror sites in other countries. Data governance will ensure security and integrity through the use of auditing and security technologies but nevertheless allow searching across all genes using a common interface.

2.

Provide a standardized system of gene variation nomenclature, reference sequences, and support systems that will enable diagnostic laboratories to use and contribute to total human variation knowledge.

3.

Establish systems that ensure adequate curation of human variation knowledge from gene-specific (locus-specific), country-specific, or disease-specific database perspective to improve accuracy, reduce errors, and develop a comprehensive data set comprising all human genes.

4.

Facilitate the development of software to collect and exchange human variation data in a federation of gene-specific (locus-specific), country-specific, disease-specific, and general databases.

5.

Establish a structured and tiered mechanism that clinicians can use to determine the health outcomes associated with genetic variation. This will work as a dialog between those who use human variation data and those who provide them. Clinicians will be encouraged to provide data and will have open access to complete variation data.

6.

Create a support system for research laboratories that provides for the collection of genotypic and phenotypic data together using the defined reference sequence in a free, unrestricted, and open access system and create a simple mechanism for logging discoveries.

7.

Develop ethical standards to ensure open access to all human variation data that are to be used for global public good and address the needs of "indigenous" communities under the threat of dilution in emerging countries.

8.

Provide support to developing countries to build capacity and to fully participate in the collection, analysis, and sharing of genetic variation information.

9.

Establish a communication and education program to collect and spread knowledge related to human variation knowledge to all countries of the world.

10.

Continue to carry out research within the opportunities presented by the investigation of human genetic variation and to present these findings to users of this information for the benefit of all.
The Nutrigenomics Organization (NuGO)
NuGO was established as an association of 23 universities and research institutes focusing on jointly developing the exiting research area of nutrigenomics and nutritional systems biology. NuGO evolved from an EU Sixth Framework Network of Excellence and has now transitioned into a global association encompassing individuals and institutions around the globe.
NuGO has two major objectives:
1.

stimulating developments in nutrigenomics, nutrigenetics, and nutritional systems biology and incorporating these aspects in nutrition and health research, by joint research projects, conferences, workshops, and training. As a legal, nonprofit entity, NuGO can join as partner in research projects anywhere in the world.

2.

shaping the nutrition bioinformatics infrastructure, by initiating, coordinating, facilitating projects in this area and by hosting and disseminating all data, results and information in this area.
The common goals of nutrigenomic community and the Human Variome Project
The HVP established committees to develop action plans to meet the 10 key objectives, which overlap or parallel the goals described in a consensus statement authored by 89 international scientists in the nutrigenomics community [34], which was co-authored by the members of NuGO. The parallel objectives of the HVP and NuGO are the common grounds upon which the two scientific communities base their interaction, as schematically described in Fig. 1.
The HVP captures and classifies genetic variation from voluntary contributions from unlinked clinical, research, diagnostic, and service laboratories. The nutrigenomic community had not specifically designated the identification and characterization of variation as a goal, even though many researchers interested in nutrient–phenotype associations use that knowledge in their experiments (e.g., [45, 56]). The emerging consensus that rare polymorphisms (i.e., <1% in the population) and copy number variants [46] may influence health, disease, and nutrient–gene interactions makes it imperative that nutrigenomic researchers adopt and use sequence technologies and methods as a part of their experimental design and procedures.
Connecting the projects
Members of the HVP and nutrigenomics community have attended conferences and workshops, including the 3rd Asia Pacific Nutrigenomics conference (Melbourne, 2008), the Fifth China Health Annual for the announcement of the HVP node in Beijing (2008), the Symposium of Princess Al-Jawhara Center of Excellence in Research of Hereditary Disorders (King Abdulaziz University. Jeddah, Saudi Arabia), the Third HVP planning meeting (Costa Brava, Spain) and at the Fourth HVP meeting (Roadmap: Project structure) at UNESCO (Paris, France). NuGO organized a micronutrient genomics workshop at the UNESCO meeting. Future meetings include co-hosting workshops at the International Conference on Nutrigenomics (ICON) in Guaruja', Brazil (September 2010). The HVP and NuGO are exploring the best means to formally recognize their ongoing interactions. The HVP has a similar ongoing relationship with the International Society for Gatrointestinal Hereditary Tumors (http://www.insight-group.org).
Organisms are complex systems that are regulated by interactions between multiple environmental factors and multiple genes. Analyzing complex systems requires a multidisciplinary and multi-technological approach (i.e., omics). Since each person or team has a limited level of complexity, the ideal, and indeed, the only, approach to understand biological systems is to distribute the task among many teams (see [3]). The interaction between the HVP and nutrigenomics researchers leverages the expertise of both groups and fosters a more complete analysis of the human organism. These articles will assist the process of populating the human genome sequence with variations which are biologically and medically relevant and eventually provide the complete "human variome."
Authors' Affiliations
(1)
Division of Personalised Nutrition and Medicine, FDA/National Center for Toxicological Research, Jefferson, USA
(2)
Department of Bioinformatics (BiGCaT), Maastricht University, Maastricht, The Netherlands
(3)
INRAN—National Research Institute on Food & Nutrition, Rome, Italy
(4)
TNO Quality of Life, Zeist, The Netherlands
(5)
Genomic Disorders Research Centre, Melbourne, Australia