A pathway approach to investigate the function and regulation of SREBPs
Genes & Nutrition
Studying the relationship between genetics and nutrition in the improvement of human health
2013
8:342
Received: 22 January 2013
Accepted: 5 March 2013
Published: 21 March 2013
Abstract
The essential function of sterol regulatory element-binding proteins (SREBPs) in cellular lipid metabolism and homeostasis has been recognized for a long time, and the basic biological pathway involving SREBPs has been well described; however, a rapidly growing number of studies reveal the complex regulation of these SREBP transcription factors at multiple levels. This regulation allows the integration of signals of diverse pathways involving nutrients, contributing to cellular lipid and energy homeostasis. This review attempts to integrate this knowledge. The description of the SREBP pathway is Web-linked as it refers to the online version of the pathway on wikipathways.org, which is interactively linked to genomics databases and literature. This allows a more extensive study of the pathway through reviewing these links.
Keywords
SREBPCholesterolLipid metabolismSignaling pathwayWikiPathways
Introduction
Sterol regulatory element-binding proteins (SREBPs) play an important role in the regulation of the intracellular cholesterol concentration and in overall lipid homeostasis. Since lipids and cholesterol are important components of cellular membranes and precursors for steroid hormones, bile salts, and essential signaling molecules, a tight regulation is vital. SREBPs provide a negative feedback mechanism by sensing the intracellular levels of cholesterol. SREBPs function as transcription factors, and upon activation, by low levels of cholesterol, they stimulate the expression of genes coding for proteins involved in the synthesis of cholesterol and fatty acids and in the uptake of lipoproteins (Brown and Goldstein 1997). The basic signaling pathway affected by SREBPs has been elucidated in great detail. However, regulation of SREBPs themselves is proven to be very complex. In the last few years, research has brought new insights regarding this regulation and the interaction with other nutrients and hormones that play a role in energy homeostasis. Recent studies also implicated the SREBP pathway to be important in the development of a range of pathological conditions, associated with obesity and the metabolic syndrome, like liver steatosis and hyperlipidemia (Moon et al. 2012). It has also been described that SREBP has a role in several physiological cellular processes not directly related with lipid homeostasis, like cell growth and innate immunity (Jeon and Osborne 2012). As the insight in the SREBP pathway becomes more and more complex, integration of the different aspects of this knowledge is vital. We will describe the SREBP protein and its isoforms, to continue with a description of the current view on the molecular basis of the SREBP pathway, its complex regulation and its physiological function. In this review, we are applying a pathway approach to investigate the function and regulation of the SREBP proteins in lipid-metabolism-related pathways.
SREBP pathway
The description of the SREBP pathway in this review will especially focus on the role of the SREBP proteins in lipid-metabolism-related pathways. A graphical representation of the SREBP pathway (see Fig.
1
) can be found on WikiPathways, a platform for community-based curation of biological pathways (Pico et al.
2008
; Kelder et al.
2012
). This pathway is a mammalian meta-pathway combining data from mouse, rat, and human studies. The description of the SREBP pathway will refer to this pathway representation on WikiPathways. The interactive pathway viewer on WikiPathways enables the user to zoom, pan, and browse to get detailed information on pathway elements in external databases and thereby allowing a more extensive study (Kelder et al.
2012
). The pathway can be found at:
http://wikipathways.org/index.php/Pathway:WP1982
. The specific version we used for this review was:
http://wikipathways.org/instance/WP1982_r59430
. Various elements of the pathway (gene products, metabolites, interactions, and the pathway as a whole) are linked to literature references using Pubmed IDs. The gene products are among others linked to genomics databases like ENSEMBL (Flicek et al.
2011
), Entrez (Maglott et al.
2011
) and UniProt (Consortium
2012
) and to databases providing information on biological function and the role in diseases, including Gene Ontology (Ashburner et al.
2000
) and OMIM (Borate and Baxevanis
2009
). The metabolites are linked to metabolite databases like HMDB (Wishart et al.
2013
) and ChEBI (de Matos et al.
2010
).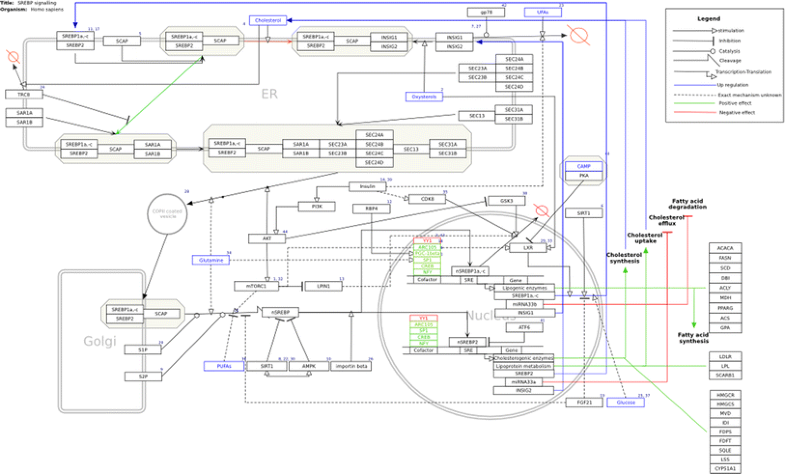 Conclusion
We previously described how literature review can be used to obtain highly curated pathways for biological processes (Adriaens et al. 2008; Jennen et al. 2010), which can be used for data analysis in PathVisio (van Iersel et al. 2008). The new interactive browsing functionality of WikiPathways now allows the pathways themselves to be used as interactive means to study relevant literature and database information on the reactions and entities involved, their known roles in biology and disease, relevant genetic variation, chemical properties, etcetera. The SREBP pathway on WikiPathways described here is an example that makes full use of this functionality.
The basic pathway of SREBP signaling has been well described. When sterol levels are high, Insig retains the SREBP–SCAP complex within the ER membrane. In case of sterol depletion, the SREBP–SCAP complex interacts with COPII proteins and migrates in COPII vesicles to the Golgi apparatus. In the Golgi apparatus, SREBP is cleaved and active nuclear SREBP is released. This nSREBP migrates to the nucleus to activate target genes involved in lipid metabolism. However, the regulation of the pathway proves to be very complex and there are still many unanswered questions, especially regarding target genes and regulation. Increasingly, links are being found between the SREBP pathway and other regulators of lipid, protein, and carbohydrate metabolism and overall energy homeostasis: PUFAs are an example how diet influences the SREBP pathway, the link found between glutamine and SREBP suggests another link between amino acid metabolism and lipid metabolism, the interaction of ATF6 and SREBP-2 could imply that the synthesis of cholesterol is slowed in case of energy stress through SREBP-2 inhibition. Especially important to recognize are the links between insulin, glucose, and SREBP, suggesting an important role for SREBP in the pathology of current diseases, as obesity and the metabolic syndrome. Combining and integrating the growing knowledge on the SREBP pathway is essential, in which biological pathway creation and curation can play a major role.
Declarations
Conflict of interest
None.
Open AccessThis article is distributed under the terms of the Creative Commons Attribution License which permits any use, distribution, and reproduction in any medium, provided the original author(s) and the source are credited.
Authors' Affiliations
(1)
Department of Bioinformatics, BiGCaT, Maastricht University, Maastricht, The Netherlands
(2)
Netherlands Consortium for Systems Biology (NCSB), Amsterdam, The Netherlands