Formidable challenges to the notion of biologically important roles for dietary small RNAs in ingesting mammals
Genes & Nutrition
Studying the relationship between genetics and nutrition in the improvement of human health
2017
12:13
Received: 4 February 2017
Accepted: 19 April 2017
Published: 7 July 2017
Abstract
The notion of uptake of active diet-derived small RNAs (sRNAs) in recipient organisms could have significant implications for our understanding of oral therapeutics and nutrition, for the safe use of RNA interference (RNAi) in agricultural biotechnology, and for ecological relationships. Yet, the transfer and subsequent regulation of gene activity by diet-derived sRNAs in ingesting mammals are still heavily debated. Here, we synthesize current information based on multiple independent studies of mammals, invertebrates, and plants. Rigorous assessment of these data emphasize that uptake of active dietary sRNAs is neither a robust nor a prevalent mechanism to maintain steady-state levels in higher organisms. While disagreement still continues regarding whether such transfer may occur in specialized contexts, concerns about technical difficulties and a lack of consensus on appropriate methods have led to questions regarding the reproducibility and biologic significance of some seemingly positive results. For any continuing investigations, concerted efforts should be made to establish a strong mechanistic basis for potential effects of dietary sRNAs and to agree on methodological guidelines for realizing such proof. Such processes would ensure proper interpretation of studies aiming to prove dietary sRNA activity in mammals and inform potential for application in therapeutics and agriculture.
Keywords
sRNA
Cross-kingdom
Ecology
Genetically engineered
Biotechnology
Agriculture
Diet
Invertebrate
miRNA
Plant
Background
There is ongoing debate about the putative transfer and ensuing regulation of gene activity by diet-derived small RNAs (sRNAs) in ingesting mammals. Proof of active and reproducible uptake of diet-derived sRNA could profoundly guide our understanding of oral therapeutics and nutrition, the safe use of RNA interference (RNAi) in crop biotechnology, and ecological relationships of organisms. In this review, we make the case that insufficient evidence currently exists to support a biologically relevant impact of sRNAs in dietary material on gene expression of ingesting organisms, specifically mammals. sRNAs are RNA molecules of <200 nucleotides in length that are typically involved in regulating other cellular processes. sRNAs include microRNAs (miRNAs), short-interfering RNA (siRNAs), and longer double-stranded RNAs (dsRNAs) from which siRNAs can be derived. Specifically, siRNAs and miRNAs are involved in the post-transcriptional regulation of gene expression in animals through a process known as RNA interference (RNAi) (reviewed in [1]). While these two RNA biotypes are processed and act similarly via RNAi-mediated mechanisms throughout the plant and animal kingdoms, their origin is distinct. miRNAs are encoded by endogenous genes, while siRNAs are usually generated from double-stranded RNAs (dsRNAs) that are introduced to the cell from an exogenous source or from less well-characterized endogenous sources. After processing, both miRNAs and siRNAs bind specific complimentary sequences in messenger RNA transcripts and regulate gene expression through the repression of translation and/or degradation of the targeted mRNA (reviewed in [2]).
Uptake of diet-derived sRNAs with resulting actions on gene expression of an ingesting organism was first described in Caenorhabditis elegans [3, 4]. Here, when dsRNAs were added to the diet or expressed in bacteria that make up the diet of this organism, these RNAs were found to silence multiple genes after serving as the template for siRNA formation. Since those reports, studies of oral exposure of various invertebrate organisms to dietary material containing in vitro synthesized dsRNAs or artificially expressing dsRNAs have demonstrated that various invertebrate organisms take up sRNAs from diverse dietary sources. Notably, failure of many invertebrate species to take up dietary sRNA efficiently has been described in both artificial [5–7] and natural ([8–13] and reviewed in [14]) contexts, underscoring the species-dependent variability in this process.
Historically, multiple studies confirmed that artificial sRNAs, such as siRNAs, had little capacity to translocate through the mammalian gut when naked and unmodified [15]. When considering the variable uptake of dietary sRNAs in invertebrates as well as the more complex anatomic barriers in the mammalian gut, it was thought that transfer of naturally occurring sRNAs from dietary material to ingesting mammals would be minimal. Therefore, when transfer of diet-derived small RNAs in ingesting organisms in a natural context was first reported by C-Y Zhang and colleagues [16], it generated substantial interest. Concurrently, the presence of sRNAs from exogenous sources was detected in human plasma [17], and the hypothesis of transfer of sRNAs between organisms gained significant attention [18–20]. While these studies suggested the possibility of cross-kingdom communication mediated through the diet [21–24], other subsequent studies provided considerable evidence that systemic uptake of ingested miRNAs from a different species is negligible in mammals [9, 10, 25, 26] and below levels required to be biologically relevant when acting through canonical sequence-specific miRNA-mediated mechanisms. Controversy remains, with a number of groups offering data and interpretations in support or in opposition of this phenomenon [27–68].
Biologic and technical reasons may both be at play in leading to differing results and interpretations [38, 48]. Ongoing disagreement primarily centers on the prevalence, magnitude, and, most importantly, the activity of sRNAs from dietary sources. In this review, we integrate information garnered from studies using dietary delivery of sRNA in mammals as well as studies of sRNA function in mammals, invertebrates, and plants. We offer our viewpoint of what is known in this controversial field. We also highlight the challenges of demonstrating uptake and activity of sRNAs in recipient mammals, particularly in light of substantial biologic obstacles that likely inhibit transfer of intact dietary sRNAs and our collective lack of mechanistic insight into how sRNAs might overcome these obstacles during normal ingestion. Furthermore, concerns about technical challenges and the absence of consensus on appropriate methods have led to reservations regarding the robustness, reproducibility, and biologic significance of some findings. In light of those issues, for any continuing investigation to impact this field, concerted efforts should be made to develop a strong mechanistic model as well as a consensus for methodologic guidelines for ultimate proof or dismissal for this controversial hypothesis.
Implications
The biologic activity of diet-derived sRNAs in ingesting vertebrate species could have significant implications for a number of fields. First, there is substantial interest in using circulating sRNAs derived from the diet as biomarkers [69] and the potential to harness uptake of diet-derived sRNA by mammals could represent a powerful new therapeutic strategy for the treatment of disease [70]. The ability to enhance existing systems for natural uptake of diet-derived sRNA by mammals would provide an attractive starting point for such endeavors. Yet, even if natural uptake only occurs at levels too low to be biologically meaningful, it is likely that some obstacle to therapeutic uptake could be overcome, as the following examples illustrate. Some evidence suggests that artificial "exosome" lipoplexes [71] or plant nanoparticles [72] can protect sRNA from degradation in the digestive tract [73]. Modifying nanoparticles with antibodies to specific surface proteins on recipient cells can enhance targeting and uptake of sRNA [74]. In addition, passage across the digestive tract barrier might be increased through the use of pharmacologic enhancers of intestinal permeability [75] or engineered bacteria [76]. Recently, it was shown that plant nanoparticles [77] and modified lipophilic siRNA molecules [78] can be engineered to allow "homing" to distal sites and siRNA-mediated activation of immune pattern recognition receptors can be inhibited by 2' modification of nucleic acid moieties [79]. Second, agriculture could potentially be transformed in the coming years by RNAi-based technologies which take advantage of cross-kingdom sRNA transfer, including genetically engineered (GE) plants and topical sprays [80, 81]. However, if systems indeed exist in mammals for natural uptake of diet-derived sRNAs, it would alter assumptions upon which these new technologies have been built and tested [82, 83]; the most important being the minimal risk to mammals due to negligible uptake and transfer [84, 85]. Third, the existence of robust cross-kingdom regulation of gene expression via ingested sRNAs could carry substantial ecologic significance. In fact, a fundamental implication of this hypothesis is that some type of co-evolution has driven this relationship between diet and ingesting organisms. Cross-kingdom interactions might be expected to impact predator-prey interactions [86] or zoopharmacognosy, defined as self-medication by animals [87], with implications for ethnobotany and the use of traditional medicine in human societies [88]. Thus, natural uptake of diet-derived sRNA by mammals could expose an exciting new layer of communication in these relationships.
Current state of the field
While the potential impacts described above are exciting, definitive proof that dietary sRNAs are routinely taken up by the ingesting mammal, are transported, and have biologic action on gene expression is wanting. The initial report by C-Y Zhang and colleagues [16] reporting that miRNAs from rice were taken up by ingesting mice with subsequent modulation of gene expression prompted a number of key questions [22, 23]. First, could the existence of exogenous, diet-derived, sRNAs in mammalian tissues be a common phenomenon and were the amounts observed biologically relevant? Second, what systems must exist for efficient uptake and function of exogenous, diet-derived, sRNAs?
Two studies immediately addressed the prevalence of diet-derived sRNAs by using RNA-sequence datasets from diverse mammalian organisms. While both found sequences corresponding to plant miRNAs in these datasets, the conclusions were dramatically different. One group suggested that the results provided considerable support for the natural uptake of sRNAs from the diet [17], while the other suggested that observation of diet-derived sRNAs was due to artifact [9]. Similarly, groups attempting to confirm the findings of Zhang et al [16] through feeding experiments did detect diet-derived sRNAs, but concluded that the levels in the tissue and even in the diet were well below the levels required to be biologically relevant [10, 25, 26]. While the studies above have largely focused on miRNAs from a different species (xenomiRs), it is worth noting that a number of groups have also been interested in whether sRNAs found in milk [89] might be passed on to the offspring through the diet.
Subsequent studies, using dataset analysis of animal tissues and fluids or feeding experiments, have largely agreed that sRNAs from dietary sources (both within and between species) can be observed in mammalian tissues and dietary material. However, contributing groups have fallen into two distinct camps when drawing conclusions regarding whether the level detected can be construed as biologically significant [9, 17, 27, 29, 30, 33, 34, 43, 45, 46, 51, 54–56, 58, 59, 66, 68, 90] or artifactual [9, 10, 25, 26, 28, 37, 39, 41, 42, 44, 49, 50, 65, 67].
Recent studies supporting biologically relevant uptake have focused on the plant-derived small sRNA MIR2911 [54–56, 59, 90]. Two of these studies also measured levels of MIR2911 in body fluids and found 1189 fM in plasma [90] or 207 fM in serum [59] after feeding. Assuming 1.46 ml of total blood, 52.2% of which is plasma (and slightly less is serum), these levels are equal to 3.7 × 108 or 6.4 × 107 per mouse or 0.0026 or 0.00045 copies per cell in this mouse. These values, which are in line with our own findings and those of others groups [10, 25, 26], suggest that unless some unknown mechanisms are involved, insufficient levels are present to be pervasively active by canonical mechanisms. It is important to note that the circulatory levels of miRNAs may not be the most precise gauge of whole-body miRNA content, especially given the possibility of localized enrichment of miRNAs in specific tissues or cell types. In the most recent study in this field, Kang and colleagues came to similar conclusions after combining exhaustive dataset analysis with carefully controlled feeding experiments [65]. Examination of sRNAs in >800 datasets from human tissues and body fluids revealed that although dietary sRNAs were commonly detected, they were present at levels of ~5 copies per cell [65], far below the levels shown for their endogenous counterparts, which may reach 50,000 copies per cell for some miRNA entities [91]. Feeding experiments using different plant diets in rats and different milk diets in pigs did not find any evidence of substantial uptake of dietary sRNA. This newest report represents the most rigorous assessment of diet-derived miRNAs to date. Accompanied by prior data from independent groups [10, 25, 26], this collective body of work concludes that uptake and canonical activity of dietary miRNAs are neither a prevalent nor robust mechanism in mammals. However, whether such transfer may occur in specialized contexts is still debated. To prove that point, a much more solid mechanistic framework and consensus on methodologic guidelines for proof are essential.
Defining a more solid mechanistic gramework for investigation
Significant biologic hurdles exist for dietary sRNAs to engage recipient mRNA transcripts and affect gene expression directly in ingesting organisms. Furthermore, we have a nearly complete absence of mechanistic insight into how these barriers could be overcome. A number of discrete steps must be considered and explained if a given sRNA in the diet indeed has the potential to alter the gene expression in an ingesting mammal (Figs.
1
and
2
).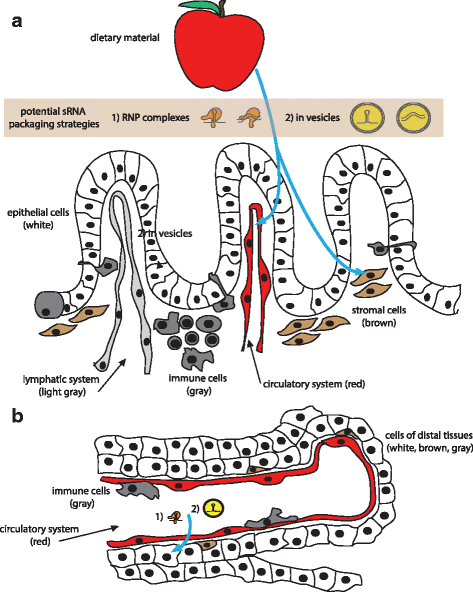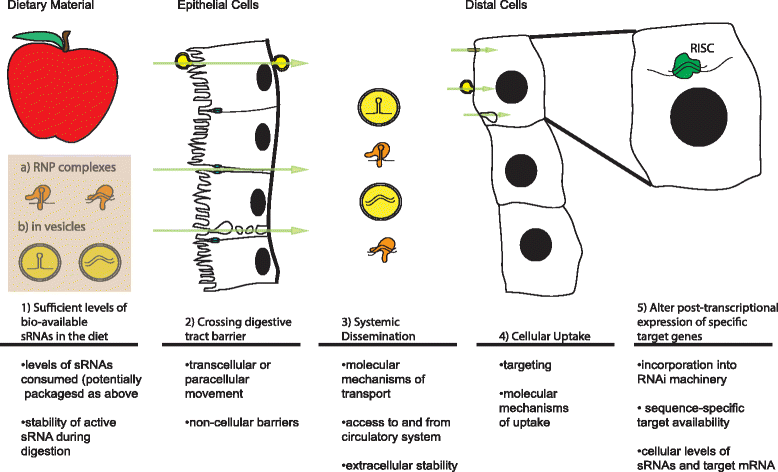 We can address these considerations separately as five questions.
(1)

Are there sufficient levels of bio-available sRNAs in the diet?

(2)

Do sRNAs cross the digestive tract barrier?

(3)

Are sRNAs disseminated systemically?

(4)

Is there cellular uptake of sRNAs?

(5)

Can delivered sRNAs alter the post-transcriptional expression of specific target genes?
Technical difficulties and absence of methodological consensus
There is general agreement that sRNAs from dietary sources are observed consistently in mammalian tissues. However, concerns about technical difficulties and a lack of consensus on appropriate methods have led to differences of opinion regarding the robustness, reproducibility, and biologic significance of results [47, 48].
In general, studies to date quantifying dietary sRNAs have relied on an amplification step prior to or associated with measurement. Whether using reverse transcription and quantitative PCR or RNA-sequencing, such data is prone to false positives and bias. Clearly defined limits of detection are critical to excluding the technical "noise" inherent in such assays [185]. The occasional (and possibly non-specific) amplification of a plant sequence at high threshold cycle (Ct) or fractional or single-digit high throughput sequencing (HTS) reads per million of a plant miRNA do not likely represent signal above background.
Variation in the methods used for library preparation, alignment, and analysis can lead to problems of reproducibility in RNA-sequencing, often called "batch effects." Library preparation methods, particularly biases in amplification [186, 187], can have dramatic impacts on the data and conclusions drawn from them. For example, two recent studies demonstrated that the choice of library preparation kit could influence amounts of a given sRNA detected in matched samples [188, 189]. The output of data from sequence alignment is also heavily dependent on the tools used, with one study finding a threefold difference in miRNAs identified in a given dataset depending on the algorithm used [190].
There is also a disagreement about the correct normalization protocols to use [191]. Many groups favor unrelated sRNA spike-in controls for technical normalization, but endogenous mRNA and sRNA controls for biologic normalization are also important [192], and, although not often employed, a panel of endogenous genes is preferred for this purpose.
A related issue is the reliance on population-based studies, resulting in the amounts of a specific sRNA molecule in an individual cell being mathematically derived instead of empirically determined. Mathematical derivation of a per cell copy number has been very useful in demonstrating the limited feasibility of meaningful uptake of dietary sRNA at the population level as described in previous sections. However, it is conceivable that subpopulations of cells have specialized concentrating mechanisms, which would be obscured at the population level. Yet, only empirical demonstration that levels of a given sRNA are above a 100-copy threshold per cell in a given subpopulation would be able to provide compelling evidence against the current mathematical estimates.
Another key problem is potential contamination, especially associated with ultra-sensitive assays that utilize amplification steps prior to quantification. Widespread contamination has been reported in high throughput sequencing datasets [44] and evidence implicates this issue in the dietary sRNA field since its inception [193]. For example, one group found that sequences corresponding to the monocot sRNA MIR168a were routinely found in datasets [37]. However, the authors pointed out that no realistic biologic rationale existed for the presence of monocot source material in the samples examined. In another example, reexamination of data sets from the Liang et al. study [43] revealed that the sRNA molecule most efficiently taken up was of monocot origin, despite the fact that human subjects in the study had only been fed dicot material. Recently, another group found that over 80% of xenomiRs found in 432 human body fluid sample datasets matched sequences from rodents [65], providing further evidence that the presence of sRNAs from exogenous sources was artifactual rather than diet-derived.
An additional limitation of current approaches is the experimental decoupling of assays that measure the amount of a given sRNA and its activity. sRNA amounts are detected using amplification-dependent methods. Subsequently, the activity of a given sRNA on a given target is demonstrated in a separate system where the sRNA is transfected or expressed at supra-physiologic levels.
A final issue includes the consideration of potential sRNA-independent effects of any diet that could confound interpretation of sRNA activity. Most diets are a complex mixture of macromolecules and micronutrients and ascribing an effect to one component is often quite difficult. For example, Dickinson et al. [26] provided evidence that nutritional intake, not diet-derived sRNAs, were ultimately responsible for the reported alterations in LDL found in the original findings of Zhang et al. [16]. In order to fully address such concerns, comparisons using dietary material from wild-type organisms with mutants engineered to lack a specific sRNA molecule via genetic modification will be required.
A concerted effort to discuss these issues and coalesce around guidelines for future work could bolster any future work in the field of dietary sRNA. Generation of an expert consensus guideline, written by diverse leaders and stakeholders in the field, to define methods to address these technological issues and to provide regulations of experimental design and interpretation for future studies to follow, would be invaluable. Using such a guideline, a consortium and agreement could be established such that any major scientific finding of dietary sRNA uptake discovered by one group would have to be repeated independently by a blinded second group prior to publication. Such an endeavor could dramatically strengthen the reputation and notoriety of the discoveries and elevate the significance of this fledging field, in general. Additionally, such endeavors, which have been quite successful in advancing other fields stalled by controversy [194], could serve as a means to bolster related fields that face similar technological challenges, such as those focused on the physiologic roles of endogenous extracellular sRNAs.
Conclusions
While the potential impacts of dietary sRNA uptake are exciting, the weight of evidence thus far has demonstrated that generalized dietary sRNA transfer and gene regulation in mammals are neither prevalent nor robust events. While it is possible that more specialized circumstances may allow for such transfer, there is a clear absence of decisive proof. Furthermore, a close examination of current data reported as "supportive" of dietary sRNA uptake typically reveals descriptive phenomenology where multiple interpretations, including technical artifact, could explain the results. Otherwise, a number of follow-up studies have more clearly demonstrated technical artifact and a lack of reproducibility as key confounders. As a result, such issues have substantially and adversely affected general scientific enthusiasm for this field of study.
We propose potential strategies to rectify the absence of consensus on technical issues and our limited mechanistic understanding of the putative steps required for successful modulation of the gene expression by dietary sRNAs. First, the presence of diet-derived sRNAs should be confirmed in tissues and cells of ingesting organisms using methods that do not require amplification for detection. Second, the ability to use sRNAs isolated from the diet directly in assays that measure their RNAi activity should be established. Third, putative sRNA transport, amplification, and concentration systems should be characterized at the molecular level, and rigorous genetic and pharmacologic gain- and loss-of-function experiments should be utilized to demonstrate function. Finally, further progress and enthusiasm in this field will absolutely depend on general and public agreement on methods and controls used in experimental proof as well as blinded and independent replication of any key findings in the future.
Abbreviations
dsRNA:

Double-stranded RNA
GE:

Genetically engineered
miRNA:

MicroRNA
siRNA:

Short-interfering RNA
sRNA:

Small RNA
Declarations
Acknowledgements
The authors acknowledge Kenneth Witwer for the helpful comments and critical review of the manuscript. The authors acknowledge the influence of many additional references that were not cited in this review due to length limitations and apologize for their omission.
Funding
This work was supported by the National Institutes of Health (HL096834, HL124021 to SYC) and the American Heart Association (14GRNT19600012 to SYC).
Availability of data and materials
Not applicable
Authors' contributions
All authors contributed to the drafting and revision of the article. Both authors read and approved the final manuscript.
Competing interests
The authors declare that they have no competing interests.
Consent for publication
Not applicable.
Ethics approval and consent to participate
Not applicable.
Publisher's Note
Springer Nature remains neutral with regard to jurisdictional claims in published maps and institutional affiliations.
Open AccessThis article is distributed under the terms of the Creative Commons Attribution 4.0 International License (http://creativecommons.org/licenses/by/4.0/), which permits unrestricted use, distribution, and reproduction in any medium, provided you give appropriate credit to the original author(s) and the source, provide a link to the Creative Commons license, and indicate if changes were made. The Creative Commons Public Domain Dedication waiver (http://creativecommons.org/publicdomain/zero/1.0/) applies to the data made available in this article, unless otherwise stated.
Authors' Affiliations
(1)
Department of Biology, Barnard College, New York, USA
(2)
Center for Pulmonary Vascular Biology and Medicine, Pittsburgh Heart, Lung, Blood, and Vascular Medicine Institute, Department of Medicine, University of Pittsburgh School of Medicine and University of Pittsburgh Medical Center, Pittsburgh, USA