Research Paper
Open Access
Effects of dietary carotenoids on mouse lung genomic profiles and their modulatory effects on short-term cigarette smoke exposures
Genes & Nutrition
Studying the relationship between genetics and nutrition in the improvement of human health
2008
4:23
Received: 25 August 2008
Accepted: 1 December 2008
Published: 18 December 2008
Abstract
Male C57BL/6 mice were fed diets supplemented with either β-carotene (BC) or lycopene (LY) that were formulated for human consumption. Four weeks of dietary supplementations results in plasma and lung carotenoid (CAR) concentrations that approximated the levels detected in humans. Bioactivity of the CARs was determined by assaying their effects on the activity of the lung transcriptome (~8,500 mRNAs). Both CARs activated the cytochrome P450 1A1 gene but only BC induced the retinol dehydrogenase gene. The contrasting effects of the two CARs on the lung transcriptome were further uncovered in mice exposed to cigarette smoke (CS) for 3 days; only LY activated ~50 genes detected in the lungs of CS-exposed mice. These genes encoded inflammatory-immune proteins. Our data suggest that mice offer a viable in vivo model for studying bioactivities of dietary CARs and their modulatory effects on lung genomic expression in both health and after exposure to CS toxicants.
Keywords
β-CaroteneLycopeneCigarette smokeLung inflammationOligonucleotide arraysGranulocytesC57BL/6 mice
Introduction
Many epidemiologic studies have suggested an ameliorating role for carotenoids (CARs) and other dietary antioxidant micronutrients in cigarette smoke (CS)-induced diseases including lung cancer [46]. A recent study of 1,194 French subjects suggested that β-carotene (BC) protects against the decline in forced expiration volume (FEV1) over an 8-year period in the general population and that BC and vitamin E are protective against lung function loss in heavy smokers [19]. Paradoxically, results from the α-tocopherol, BC cancer prevention (ATBC) study, and the BC and retinol efficacy trial (CARET), two large investigations that focused on disease chemoprevention with nutritional supplements, suggested that smokers should avoid high-dose BC supplements because of an increased risk of lung cancer (e.g., 18 and 28% more lung cancers, respectively) [54].
These paradoxical and unexpected data have stimulated a number of in vivo studies to seek better understanding of the lung cellular and molecular pathways in which CARs could influence CS-induced lung pathobiology [18, 32, 35, 37, 38, 40, 41, 51, 56, 57, 61, 73, 75]. High doses of BC were shown to increase the activities of cytochrome P450s (CYPs) in rat lungs [57]. In the A/J mouse model of CS-induced lung tumorogenesis, dietary BC supplementation augmented lung BC concentrations but had no effect on lung tumors induced by either whole CS [51] or gas-phase of CS [75]. In a similar model, BC supplementation had no effect on CS carcinogen 4-(N-methyl-N-nitrosamino)-1-(3-pyridyl)-1-butanone-induced lung tumorogenesis [18].
Studies in ferrets have made important contributions in deciphering the in vivo effects of CARs, CS and their biological interactions [61]. In ferrets exposed to CS, accelerated levels of lung cell proliferation and squamous metaplasia were found in animals fed high doses of BC. This study suggested that diminished retinoid signaling pathways could represent a contributing mechanism related to the increased tumor incidence seen in human smokers [41]. Importantly, these investigators have also presented evidence that the beneficial and/or detrimental effects of BC supplementation could be related to the doses of BC administered [40, 41]. They have also shown that both low- and high-dose lycopene (LY) supplementations substantially inhibited CS-induced lung tissue squamous metaplasia and proliferating cellular nuclear antigen (PCNA) expression in ferrets [37], extending earlier observations that LY administration appears to decrease some markers of CS-induced lung bimolecular damages [1].
In a recent study A/J mice fed varying concentrations of BC were exposed to CS [32]. These investigators documented CS-induced effects on lung pathways related to drug metabolism, oxidative stress, inflammation, matrix degradation and apoptosis and demonstrated that BC itself had minimal changes in lung gene expression, but it decreased CS-related induction of inflammatory pathways. These investigators concluded that BC effects on CS-induced lung genomic profiles were negligible.
In the present study, we have explored CAR effects on the lung transcriptome of C57BL/6 mice and compared these effects with those in CAR (BC or LY) fed mice exposed to CS using a somewhat similar CAR administration and CS exposure strategy that was used previously in A/J mice [51, 76]. Although C57BL/6 mice have been less frequently used to study CS-related lung tumorogenesis [47, 76] and mice present a complex and somewhat different in vivo CAR digestion, absorption and metabolism profiles compared to humans [33], a rich array of genetically engineered mice on C57BL6 genetic background are available for the study of nutrient-environmental interactions in this mouse strain.
Methods
Protocols for humane treatment and utilization of mice described in this study were approved by the Institutional Animal Care and Use Committee of the University of California, Davis.
Diets and mice
The basal diet was the AIN-93G rodent diet which is optimized for rodent growth and health, and lacks added BC or LY [36]. The AIN-93G diet was supplemented with gelatin beadlets without CAR or gelatin beadlets with a crystalline form of synthetic CAR. The beadlets themselves consist of a starch-coated matrix of gelatin and sucrose stabilized with small amounts of tocopherol, sodium ascorbate and ascorbyl palmitate with tricalcium phosphate (BASF website). Gelatin beadlets contained either 100 g BC or 100 g LY (~77% all trans- and 23% total cis isomers) or no added CAR/kg gelatin beadlets provided by BASF (Ballerup, Denmark) and were developed for human consumption [83]. The final pelleted diets were prepared by DYETS, Bethleham, PA. These diets contained 5 g of beadlets/kg diet. The two CAR containing diets thus contained 0.5 g of CAR/kg diet, a supplementation several-fold higher than that used in human studies [54] but necessitated because of the poor systemic deliveries of ingested CARs in rodents [33]. It is likely that the pelleting process itself along with the chamber CS exposures affected the stability of the added BC and LY, causing some isomerization and oxidation of at least a portion of the two CARs.
Preliminary studies of dose ranging protocol for CAR administration
Male C57BL/6 mice (6 week old, 20–25 g) were obtained from Charles River Laboratories (Wilmington, MA). Twenty-four mice (6 groups of 4 mice per group) received the basal AIN-93 G rodent unsupplemented diet. They were housed in groups of 4 in polycarbonate cages with free access to tap water and diet. All mice received the basal diet for 2 weeks, reaching baseline low CAR concentrations in plasma and tissues. After 2 weeks of this acclimatization period, mice were subsequently fed with diets containing either 0.5 g BC/kg diet or 0.5 g LY/kg diet or the unsupplemented basal diet for 1, 2, and 4 weeks. At 1, 2, or 4 weeks mice were sacrificed and plasma and lung tissue were collected for analysis utilizing previously described HPLC methodologies [
51
,
52
]. As depicted in Fig.
1
, plasma and lung tissue BC peaked at 1 week, whereas LY levels remained more stable but were higher than BC levels at 4 weeks. The noted discrepancy in plasma and lung CAR levels with constant oral intakes is most likely secondary to differences in BC/LY cleavages by 15′, 15′ and 9′, 10′ monooxygenases, different BC/LY substrate and/or metabolite inductions of these metabolizing enzymes, and/or other less clarified biotransformations of the two CARs [
24
]. We empirically selected the 4-week feeding regimens for all the subsequent experiments designed to characterize CAR effects on global lung genomic responses at two widely divergent lung CAR concentrations, albeit with the realization that plasma CAR levels only reached low human levels for the two CARs [
29
,
63
].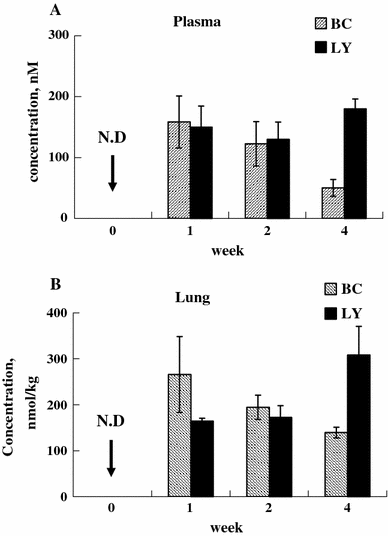 Experimental protocol
Twenty-four mice were randomly assigned to one of three groups of eight mice. Each group was allowed to feed on either a basal diet or the BC or LY-supplemented diets as in the preliminary studies after receiving the basal diet for 2 weeks to allow mice to acclimatize to the diet containing the gelatin beadlets without added CARs. After 2 weeks the diets were changed to either the BC-supplemented diet (0.5 g BC/kg diet), the LY-supplemented diet (0.5 g LY/kg diet) or the basal diet lacking added CARs for four additional weeks. While continuing on the three assigned diets, four mice in each dietary group were then exposed to either CS or filtered air for three additional days. Body weight was measured before and after exposure to filtered air or CS. Mice had unrestricted access to water and their assigned diets during the filtered air or CS exposures.
CS exposure system
Mice were exposed to CS for 6 h/day for 3 days (8 am–2 pm) in chambers as previously described [51]. The chamber atmosphere was controlled with relative humidity of 41 ± 7% and temperature 21 ± 1°C. The nicotine content in the chamber during the CS exposure was 5.1 ± 0.4 mg/m3, carbon monoxide level 14 ± 1.0 ppm, and total suspended particulate concentration 60 ± 2.5 mg/m3. This level of CS exposure could be expected to result in carboxyhemoglobin (HbCO) levels, of approximately 5% [23]. Immediately after the last CS or filtered air exposure, all of the mice were euthanized by injection of beuthanasia (120 mg/kg body weight, i.p.). Lung parenchymal tissue was dissected away from extra-parenchymal airways and blood vessels and stored at −80°C until RNA extraction (within 4 weeks).
GeneChip analysis
A total of 24 mouse genome 430A 2.0 arrays, GeneChips, (Affymetrix, Santa Clara, CA), 4 GeneChips/group of 4 mice were utilized to obtain mRNA expression data. An aliquot of total RNA extracted from half-a-lung from each of the 24 mice was processed for GeneChip analysis as previously described using Affymetrix protocols [15].
RNA extraction and synthesis of biotin-labeled RNA
Lung tissue (~100 mg) from each mouse was homogenized in 1 mL of Trizol Reagent (Invitrogen, Carlsbad, CA) and total RNA was extracted and quantified as described by the manufacturer. An aliquot (20 μg/8 μL of water) of total RNA from each mouse lung from each of the three dietary groups exposed to either CS or filtered air was used for cDNA synthesis (first-strand and second-strand cDNA synthesis) followed by cleanup of double-stranded cDNA and synthesis of biotin-labeled cRNA. The biotin-labeled cRNA (40 μg) from each lung was used for fragmentation and hybridization to GeneChips.
The scanned images of hybridized signals were analyzed with the Affymetrix GeneChip Operating Software (GCOS 1.0). When the P value for detection signal was ≤0.049 (range of P value 0.0002–0.049), the expression of the mRNA was classified as "present" (P). All mRNAs with the P value for detection ≥0.05 were considered "absent" (A). The signal intensities for transcripts classified as present ranged from 5 to 7,000 U. The .cel files from each scan were imported into dChip analyzer, a web based software package (http://www.dchip.org/) implementing model-based expression analysis of oligonucleotide arrays [34]. The dChip analyzer was used for obtaining statistically significant differences (P ≤ 0.05, fold change ≥2.0, and the difference in signal intensity ≥100) in the mRNA expression between the different treatment groups and for generating qualitative "heat-maps" of selected functionally related gene clusters. CAR and CS sensitive genes were further classified into functional clusters based on their annotations and descriptions of their functions in the literature.
Validation of GeneChip data
Many reports [16, 44, 66] have shown that the changes in the expression of mRNAs selected by the analysis of hybridization data as described above could be confirmed by independent analysis such as Northern, qualitative reverse transcriptase (RT) PCR, quantitative real-time RT-PCR (qRT-PCR), and in some cases by immunoblot analysis of the encoded proteins [22, 28]. In this study, selected differentially expressed genes that were relevant to the major new findings reported here were subjected to confirmation analysis by real-time PCR.
Quantitative real-time PCR (qRT-PCR)
An aliquot equivalent to 5 μg of total RNA extracted for GeneChip analysis was reverse-transcribed to obtain cDNA in a final volume of 20 μL reaction buffer consisting of oligo dT primer, DTT, dNTPs and Superscript II reverse transcriptase (Invitrogen, Carlsbad, CA). qRT-PCR method with SYBR green as fluorescent reporter was used to quantify the expression of selected genes identified by GeneChip assay. All the gene specific primers (Table
1
) were designed with Primer Express 1.0 software (Applied Biosystems) using gene specific template obtained from Affymetrix probe set IDs. The reaction was carried out in 96-well optical well plate containing 6.25 ng RNA in each well. The applied RNA quantity was further normalized by amplifying cDNA samples simultaneously with glyceraldehyde-3-phosphate dehydrogenase (GAPDH) specific primers. The transcript levels were measured by real-time RT-PCR using ABI PRISM 7700 Sequence detection system (PE Applied Biosystems, Foster City, CA). PCR amplification parameters were: initial denaturation step at 95°C for 10 min followed by 40 cycles, each at 95°C for 15 s (melting), 60°C for 1 min (annealing and extension). The 2
-
ΔΔ
C
T method [
43
] was used to calculate relative changes in gene expression determined from real-time quantitative PCR experiments (Applied Biosystems User Bulletin No.2 (P/N4303859). The threshold cycle,
C
t
, which correlates inversely with the target mRNA levels, was measured as the cycle number at which the SYBR Green emission increases above a threshold level. Specific mRNA transcripts were expressed as fold difference in the expression of specific genes in RNA samples from lungs of mice fed basal diet compared to CAR fed diets or between CS-exposed and air-exposed lungs fed the assigned diets.
Table 1
Primer sequences for real-time RT-PCR
Gene

Primer sequence (5′–3′)

GAPDH

Sense-GCAACAGGGTGGTG

Antisense-GGATAGGGCCTCTC

CYP1A1

Sense-CAGATGATAAGGTCATCACGA

Antisense-TTGGGGATATAGAAGCCATTC

S100A8 (calgranulin A)

Sense-GCATCTCACAAAGACAGCCACA

Antisense-AGCCCTAGGCCAGAAGCTCT

S100A9 (calgranlin B)

Sense-GATGGCCAACAAAGCACCTT

Antisense-ATGATGGTGGTTATGCTGCG

Slfn4

Sense-ACAAGTGATGCCTGGAAAGG

Antisense-GACTGCCCTGGGAAATATGA

IL1-beta

Sense-CCAAAAGATGAAGGGCTGCT

Antisense-TCATCTGGACAGCCCAGGTC

CBR-3

Sense-TACTTGGCTCTCCTGCCTCC

Antisense-GACTAGCTGGCCGTGAGGTT
Statistical analysis
Statistical evaluation of the CAR concentrations, qRT-PCR data, and the effects of CS exposure in the three dietary groups were done by Student's t test using the statistical software GraphPad Prism 4.0. In all comparisons differences with P ≤ 0.05 were considered as significant. Results are expressed as mean ± SEM, the number of mice/group (n) and the P value.
Declarations
Acknowledgments
Support for this work was received from NIH grant #ES011985, USDA grant # 35200-134546, UC Davis Clinical Nutrition Research Unit, UC Davis Center for Human Nutrition Research, BASF and Pharmanex.
Open Access
This article is distributed under the terms of the Creative Commons Attribution Noncommercial License which permits any noncommercial use, distribution, and reproduction in any medium, provided the original author(s) and source are credited.
Authors' Affiliations
(1)
Center for Comparative Respiratory Biology and Medicine, Clinical Nutrition and Vascular Medicine, Genome and Biomedical Sciences Facility, University of California, Davis, USA
(2)
Division of Endocrinology, Clinical Nutrition and Vascular Medicine, University of California, Davis, USA
(3)
Department of Physiology, University of Siena, Siena, Italy
(4)
Department of Food and Nutrition, Institute of Human Ecology, Kyung Hee University, Seoul, South Korea
(5)
BASF, Ludwigshafen, Germany
(6)
Department of Molecular Pharmacology and Toxicology School of Pharmacy, University of Southern California, Los Angeles, USA